Heard the saying: "The trash of one person is the treasure of another?" Okay, now you have it, and frankly, we can say that it's entirely true.
People wear and toss their clothes faster than it's expected. The quick change in fashion trends has led to people tossing out the ones that don't fit the current trend.
To keep up with the demands of the people, manufacturers are producing fabrics at a faster rate.
Consequence? Our environment.
Thrift shopping may have once been on the list of those on small budgets. Thrifting is basically buying from a store that sells gently used clothing, furniture, and other household items at a discounted price.

Although, an increase in environmental awareness and the appealing price tags of second-hand items have forced young people to pop to their nearest charitable stores.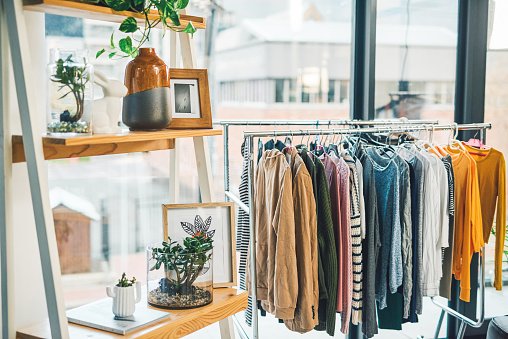 Benefits of Thrift Shopping & How it is helping us live Sustainabily
#1) Less dump in the landfill
The first and most noticeable reasons for shopping thrift are its gentleness towards the world. Either on your wall or in your kitchen, anything that should have finished on a landfill now has a second chance in existence.
#2) Help save the ocean
Nowadays, most clothing is made up of polyester in some way. This kind of material in the ocean does not break down.
Throwing leftover materials from this fabric into the water bodies has an effect on the lives of marine and environmental organisms.
Although, Through thrifting, we could prevent this havoc. You can also help us in our mission to save oceans by buying sustainable zero-waste products like stylish coconut bowls, scented candles, and many more exquisite products.
#3) Lesser air pollution
What does it mean when you think of which sectors are the biggest air polluters? Did you know, though, that the fashion industry is among the biggest air pollutants in the world?
When one item is made, not only the production of that product but also the shipping requirement are generating some amount of emissions.
So, cut on those emissions by buying yourself a pair of second and jeans rather than a new set.
So, start donating the ones that are only seen hanging in your closet to a thrift charity.
#4) Host a garage sale
This will help you declutter and get rid of junk drawers and crammed closets. Doing a huge declutter will help you and your home get free of the chaos of managing excess things. Clothes that don't fit can be sold then or even donated.
#5) Thrifting ups your style quotient
The clothes found there are sometimes very good finds. They could be vintage or designer which can be available for lesser prices which can be a steal.
This is a list of thrift stores you can shop from:
https://so.city/delhi/article/7-best-thrifting-stores-where-you-can-shop-online-score-some-unique-fashion-pieces
Donating clothes and thrift shopping will help you reduce your impact on the environment and you might even find some very good pieces for a reduced price. Also,