Includes 1 Wooden Spoon
Product descriptions:
Material – Wood
Packaging – Recycled paper, reusable cloth bags
Artisan-made skillfully handcrafted wooden spoon, each spoon has its own unique texture and a natural wooden brown color. They are natural, handmade, eco-friendly, reusable & durable.
Features:
100% Biodegradable- Can be easily Decomposed, leaving no waste behind.
Natural materials- Made out of readily available natural wood.
Anti-bacterial- These are naturally made spoons treated to be free of any viral or bacteria.
Plastic-Free- The spoons are made of eco-friendly materials and contain no plastic, from material to packaging it is 100% plastic-free.
Recyclable- Alternative for plastic spoon and plastic cutlery, this wooden spoon provides a hygienic, organic, and natural option.
Alternatives to Wooden Cutlery: Individual Impact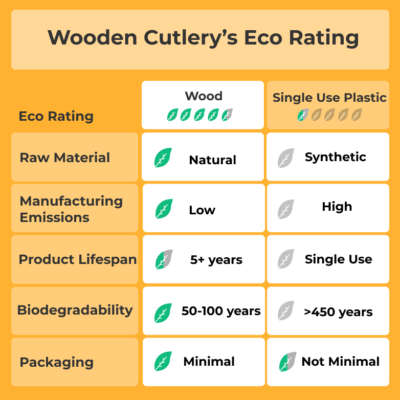 Impact of Switching:
Brand Zero brings these artisan-made spoons made of wood. These spoons are reusable and create zero waste. An easy step to adopt a sustainable lifestyle, one wooden product reduces at least 12,000 years' worth of waste.
Care for the Spoon:
Just like the beauty of nature, these wooden spoons are delicate and need to be nurtured with care. Their durability and longevity are determined by the love you give them.
Key Instructions:
Wash your wooden spoons with soapy water and no hard dishwasher.
If the spoon starts to lose its shine, be a savior, and polish it with a few drops of coconut oil. Or just cherish the raw and earthy form of its beauty
How to discard:
Can be composted in your home composting bin.
For the quickest decomposition time, deposit to a local commercial composter.
Packaging:
Our packaging is made from recycled materials, designed to be reused, and can eventually be recycled again. It is handcrafted by an artisan couple in Delhi, Shajiyaji and Mumtazji. Its recipe includes love, craft, and gratitude. We use 100% post-consumer paper and the cloth used to make the pouches is sourced from a 'Kattran' market – a term used to refer to a market where industrial 'waste scraps' are sold by independent locals.