Includes 2 Big Coconut bowls (Size – Large, 450ml)
Product descriptions:
Material – Coconut
Packaging – Recycled paper
Features:
Dimensions: 450ml
100% Biodegradable- Can be easily Decomposed, leaving no waste behind
Natural materials- Made out of readily available natural coconut shells
BPA free- It does not contain any toxic chemical substances, handcrafted with natural products.
Anti-viral/ anti-bacterial- These are naturally made bowls treated to be free of any viral or bacteria.
Alternatives for Bowls: Individual Impact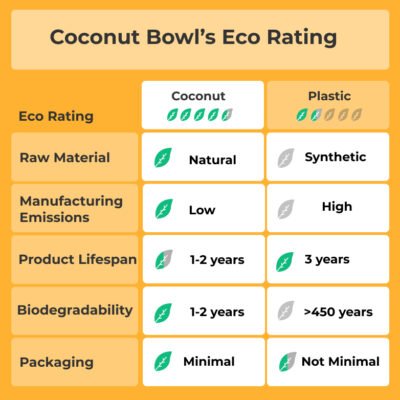 Impact of Switching:
Brand Zero brings these artisan made coconut bowls made of natural coconut shells. These bowls are reusable and create zero waste. An easy step to adopt a sustainable lifestyle, one coconut shell bowl reduces at least 12,000 years worth of waste.
Care for the Bowls:
Coconuts are noble beings of nature, as they can be converted to bowls and cups without any chemical treatment. Just like the beauty of nature, these bowls are delicate and need to be nurtured with care. Their durability and longevity are determined by the love you give them.
Key Instructions:
The coconut used for the bowls is designed by nature to withstand both hot and cold food. However, we suggest, to avoid boiling food as it might lead to a crack.  Do not microwave.
Wash your coconut bowl with soapy water and no hard dishwasher.
If the bowl starts to lose its shine, be a savior, and polish it with a few drops of coconut oil. Or just cherish the raw and earthy form of its beauty.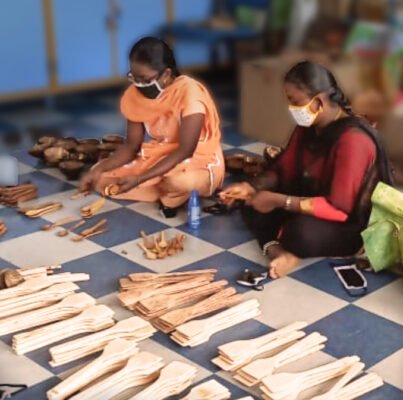 How to discard:
Can be composted in your home composting bin.
For the quickest decomposition time, deposit to a local commercial composter.
Packaging:
In our attempt to create minimal waste, we try our level best (mostly successfully) to keep the packaging to a minimum. We use 100% post-consumer paper, and gummed paper tapes instead of plastic tapes, to ensure the boxes can be recycled with ease