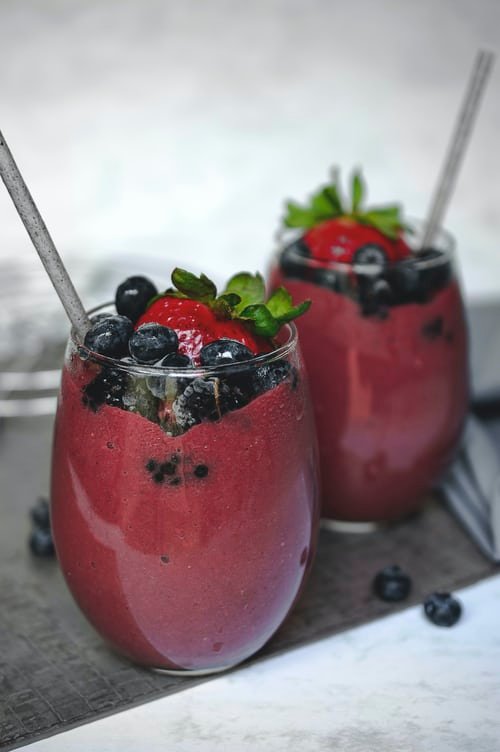 Say goodbye to boring breakfast for good by making personalized smoothie bowls.
You obviously don't need us to tell you how healthy and delicious smoothies are. But it's the smoothie bowl that has been on our hearts lately.
It could be because they look a little bit more adult, or maybe because they're making us feel like we're enjoying morning ice-cream sundaes. It's a win, anyway.
Smoothie bowls are the best way to start your day packed with fiber, good fats, and fruits and veggies.
Follow these tips to ensure a well-balanced, rich-creamy breakfast in one lovely bowl:
Skip packed fruit juices
Switch off packed fruit juices with coconut water or substitute milk in order to avoid packing them in excess sugar. Go for the unsweetened variety when picking an alternative as milk.
Cream up your bowl
What is the secret to not only the best smoothie but even the thickest of the smoothies in general? Freeze it all.
To ensure a smoothies bowl is creamy when poured, add half an avocado or frozen banana. Or, you can also add a dollop of yogurt.
You want the consistency of your smoothies to be so rich and creamy, that you need to scoop out of the mixer when you are about to transfer the smoothie to the bowl.
Add Greens to your bowl
Stay satiated and energized during the day by giving your smoothies fresh greens. Fresh spinach mixes right with riced cauliflower and kale leaves.
Add some sliced cucumbers if you like, just add an extra kick of a new aroma. And if they're frozen bonus points.
Pint of secret ingredients
Brighten up your smoothie bowl by adding fresh mint and finely chopped ginger to improve your morning battery.
The mint adds the perfect boost to wake you up and the ginger keeps you energetic. A couple of frozen berries are a perfect companion to your mint and ginger.
And lastly, a dash of cinnamon never fails to add spice if your smoothie is based on bananas.
Toppings that look great on their own
Now for the interesting stuff, the toppings!
To make your smoothie look delightful and healthier, add some granola or sprinkle on some chia or flax seeds, coconut flakes, or any sort of nuts and berries. piedmontmastergardeners.org
But make sure the fresh fruit takes up the most space and not the nuts or seeds or granola.
These are all perfect ways to increase your smoothie's fiber and protein content.
Our final secret for smoothie bowls is- have fun!!! Enjoy every scoop of it.
Aside from being delicious, whipping up a smoothie bowl is an opportunity to get creative. The possibilities are endless
Get innovative and create your own signature recipe !!